The 26th lecture HEIWA 845 Jan 17th (Wed), Ms.Tomi Kora, the first female Japanese politician, who visited The camp in Siberia.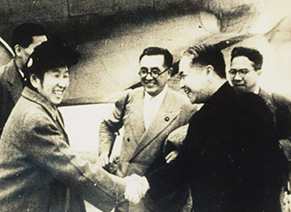 Tomi Kora is known as the first upper house member right after WWII, also known as the first female politician who visited to see the camp in Siberia, having taken a risk in breaking the law. What she faced there was the "artificial" environment.
All the Japanese there cried out by looking at the luggage with Rising Sun flag, Hinomaru. Her grand father was Mr.Tajima Yahei who was called "Saint of Gunma" and her mother was a graduate of Meabashi girl's high school.
The people she met at the camp were war criminals, therefore they were not allowed to send letters. But Tomi did her best to change it and they have gotten allowed to do that. They were astonished to see how much their home country were changing through magazines. It was 1956, the year of restoring relations, when they were allowed to go home. It was 1952 when Tomi landed on Siberia.
The 26nd lecture streamed on YouTube